Rodney de Gruchy
used to start the day by checking the tide chart and then scheduled his work day around his daily surf. It's a long wave ride away from the life he left in Melbourne 20 years ago. De Gruchy rocked with the best of them in the seventies and early eighties. He managed rock bands, co-owned nightclubs, founded the seminal band venue 'The Club' and formed Australia's first independent record label 'Havoc Records'. He even opened a Hard Rock Café with Michael Browning (unfortunately they didn't register the business name), but they did go out with a bang on New Years' Eve 1974 with a quintessential Aussie rock line-up – AC/DC, Daddy Cool and Skyhooks.
Eventually de Gruchy realized that he was tiring of the vampire-like lifestyle in which Club owners inevitably exist. He decided to sell his business and move to Bali "To pursue a healthier and more balanced lifestyle". One day a sampling of the local fungi inspired an epiphany; he noticed that the patterns in the Balinese batiks were imitating the patterns the waves left on the shore. De Gruchy started designing clothes using traditional Indonesian batik and ikat designs with contemporary bents. Ikat blankets with leather trims, motorcycle jackets with ikat panels and leather trim, fur g-strings (it was the eighties after all). Boutiques in Los Angeles such as Fred Segal became great clients and, his favourite customer was the flamboyant Engelbert Humperdinck who commissioned de Gruchy's jackets for his Vegas shows.
By the late eighties he started experimenting with jewelry, combining traditional Indonesian motifs with contemporary designs. De Gruchy started making chunky silver crosses which sold well in Los Angeles; Madonna was one of his more famous patrons. De Gruchy professes he has never sought celebrities as clients, but for some reason the have always been attracted to his work. He probably understands their mindset from his earlier days. He describes his jewelry as, 'showy without being gauche.' Perfect for anyone who wants to make a statement.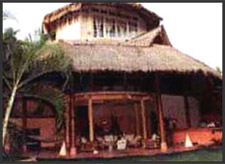 De Gruchy continued to be based out of Bali, while he travelled to America, Asia and Australia to find new markets. He gained a loyal clientele in Los Angeles by finding the best boutiques and walking into the stores with stock and asking to see the owner. Les Habitudes and Maxfields loved his jewelry, because it was new and different to anything anyone else was doing, and were willing to give him a break.
He developed a business relationship with Jennifer Kaufman, who supplies the film and television industries with adornments. His jewelry has been featured on Melrose Place and Buffy – The Vampire Slayer. And rock stars are still a constant, with everyone from Elton John to Alanis Morrisette donning his bold silver wares.
On a recent trip to Japan, de Gruchy had people stopping him in the street to ask where he had bought his jewelry, this lead to a store offering to stock his work, and so the de Gruchy sensibility was once again in the right place at the right the time. He has designed sets of sterling silver dice for Crown Casino, and is working on a silver yo-yo. His next plan is to ride the home wares wave, and with distributors now in Australia and the US, there is no doubt they will be a great success.
Whilst he was no longer based in Bali, we knew that inspiration for ideas will continue to come, because he had his unique way of finding them – surfing. "When you are surfing there is a lot of downtime when you are waiting for a wave, and that's when I do my thinking. You might be sitting there on your board and suddenly you'll see a reflection or a landfall from the ocean's point of view, and that's inspiring."
With his attitude, it's certain that even beyond this plane Rodney de Grruchy will continue to ride his silver wave of success.
Rodney de Gruchy died in his Melbourne residence on the 24th of June 2011